Customized Holidays
All our holidays are customized and adapted to suit your needs so that you can make the most of your stay and not miss a thing. We take care of every detail, providing you with an experience free of worries. Our aim is to give you the perfect holiday to suit your needs. You can choose from a wide range of different options, many of which have features in common but there is always something special that makes each one different. They all follow the specific aim of helping you to get to know the land you are traversing from a different perspective.
Choosing to have a guide from Fulltimeguides will allow you to get to know the whole range of leisure and cultural activities that this area has to offer. Our in-depth knowledge of the area, along with the personal treatment you will receive, can make all the difference between a mediocre holiday and an earth-shattering experience. We will take care of every detail of your holiday as if it were our own.
*We design tailor-made outdoor experiences which could include interpretive or guided walks, excursions on horseback or by bicycle with a support vehicle at your disposal, and customized cultural tours.
0
/ 10
Based on 2 reviews
Guest reviews are written by our customers after their tour of Customized Holidays.
Accommodations

8

Guided visits

8

Overall Rating

9
Guest reviews
Aitor Iriarte
2016-10-17



Travesía ALLMOUNTAIN en 4 etapas Alojamientos, cenas y desayunos muy bien, el servicio de Fulltimeguides muy cordial, perfecto al 100% con un seguimiento continuo, te sientes apoyado en todo momento. Felicidades por el excelente estado e indicaciones en los senderos. También la opción de recoger nuestros vehículos y dejarlos el último día en el punto final fue un gran acierto, muy recomendable. La ruta, exigente, hay que estar bien preparado físicamente para pasar un mínimo de 8 horas diarias en la bici rodando por terreno muy variado, con algún pequeño porteo y bajadas en algunos casos bastante técnicas. Por esto último creemos que se queda un poco en tierra de nadie, demasiado técnica para "rallymanes" y demasiado dura para el "endureta" medio poco acostumbrado a pedalear, como dice su título es un ALLMOUNTAIN exigente en toda regla. El tiempo para nosotros fue ideal, fresco y soleado, con mucho calor o en un día lluvioso… En Guara sobre todo senderos de los de ganarse cada metro pedaleado y bajadas técnicas, luego largos enlaces por pistas pedregosas de avance costoso.

algo se podría mejorar, os pasamos una reseña de lo que hicimos.... Supongo que comercialmente lo mejor sería tener un par de travesías asequibles (una más técnica y corta y la segunda más rodadora "slow") y luego la top que haga de buque insignia (del estilo de la actual Allmountain), que aunque pocos la hagan sea la que llame la atención. La etapa 1 tal y como la hicimos nosotros sí o sí, comenzando desde Lecina por el "dolmen de las balanzas". Muchísimo sendero de calidad y bajadas potentes. La etapa 2 subida larga por carretera y pista y posterior bajadón TOP de piedra agarrada con escalones grandes. La segunda parte de la ruta que hicimos, en general, para olvidar, una bajada larga desde el Pico del Aguila, pero bastante cerda, con mucha piedra gorda suelta, más indicada para bicis de DH. El track original era más duro y, según nos dijeron, la bajada del pelo de la que hicimos. El tercer día por el entorno de Loarre y llegando a Riglos, muy muy bonito. Modificamos bastante la ruta original y nos quedó bastante equilibrada, con buena bajada final volviendo desde de Mirador de los Buitres por la derecha en vez de la bajada directa a Riglos por la izquierda. El cuarto día, casi 50 kms de pista para hacer al final 10-15 kms de sendero chulos, pero que evidentemente no merecen toda la pista anterior. Nosotros propondríamos una Riglos-Villalangua para acabar bajando la Osqueta clasica, 30 kms de etapa final y para casa. Conclusión, lo mejor la zona de Guara. Cuanto más nos alejábamos de Guara, más pista y más pedregoso con cantos redondeados, se hacía duro pedalear. Los paisajes muy buenos todos los días. En nuestra opinión es una travesía para repetir sin duda, pero modificando algunos tramos. Muchas gracias por todo, nos volveremos a ver.

Full Time Guides
2016-09-10



Diré que lo pasamos fenomenal, el que todas las gestiones se realizasen por vuestra parte merece la pena y que aunque llamamos casi todos los días siempre estuvisteis ahí, eso da tranquilidad. La atención telefónica, consultas y solicitud de recomendaciones sobre la marcha, resultó ser muy cómodo. Nos gustó mucho la zona, la verdad es que no te lo acabas ni queriendo así que volveremos a por otro plan de machaque en cuanto podamos.

Por poner una pega, que se me olvidó comentártelo, el cierre del casco que me dejaste para hacer la ferrata del mirador de los buitres se habría, así que bueno, eso revisarlo un poquito mejor si podéis.
Walking holidays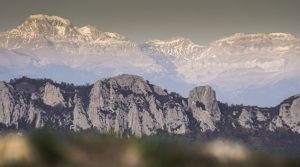 We provide tailor-made excursions with overnight stays in different places with a new route added each day. If you are choosing a walking holiday you will find in our search function a selection of different levels from hill-walking to trekking, Nordic walking, trail running...
---
Each stage of the holiday is specially designed to make the most of the day and lead you to interesting places to stay overnight, such as a village where you can spend the evening wandering through the quiet streets, having a bite and a drink as you become acquainted with the rich heritage of the area. You can also spend a night under the stars in the depths of the countryside far from any civilisation, observing the night sky, listening out for animals and absorbing the natural environment.
We will take care of organising your accommodation throughout the whole holiday. You will have a support vehicle and a trip leader at your disposal who will help you plan your route every day and will transfer your luggage and serve you lunch as and when necessary. All you have to do is enjoy the walk. Our activities on foot include:
Hill-walking:
Easy routes along designated footpaths, between 10km and 30km per day carried out in two stages (morning and afternoon), and adapted to your level of fitness. At midday we will serve you a gourmet picnic lunch in the open air so you can regain your strength at the same time as having a different experience.
Nordic walking:
So much more than just walking along with poles, it is an all-round aerobic excercise in which all the parts of your body are working simultaneously. You will learn techniques to help you make progress and you will cover all types of terrain at a surprising rate whilst enjoying the landscape.
Trekking:
Mountain paths connecting valleys and local areas, taking you to the most beautiful corners of the Pyrenees. You will stay overnight in mountain refuges and villages where you will meet the locals, see how they live, and have access to their traditions and heritage. We will transport your luggage and propose different activities and cultural stop-offs each day.
Trail running:
If running is your passion and you're sick and tired of tarmac, this is the holiday for you. We provide a variety of trips of up to six days of routes, all of which will test your stamina and you will be thankful for the support and food we supply you with along the way. We will take care of your luggage and propose different activities and cultural visits for the rest of the day.
Riding holidays:
The opportunity to ride on horseback, accompanied by mules to take your luggage, is an experience you shouldn't miss. It's not just a short, easy horse-ride but an authentic expedition over several days where you will feel like an intrepid explorer of olden times. If you bring your own horse we will take care of the logistics and design a route such that your horse will stay overnight close by. If you have never ridden a horse before, we will provide everything necessary for you to enjoy the experience and get to know these noble creatures which, we are sure, will win you over.
Cycling holidays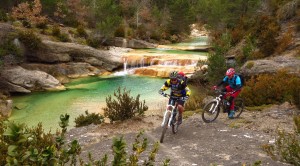 We provide trips with itineraries and accommodation carefully selected by and for cyclists. You can choose a holiday led by expert guides, from easy tracks for mountain biking with all the family to the best trails, descents and great Pyrenean routes for testing your endurance.
---
At Fulltimeguides we adapt every holiday to the specific needs of each group.
Your accommodation will alternate between staying in remote villages in the back of beyond and more lively villages with more facilities, all of which will be suitable for cyclists with a place to clean and store your bike for the night.
As with the walking holidays, we will organise your accommodation for the duration of the trip. You will have a support vehicle and a trip leader at your disposal who will help you prepare your route each day, transfer your luggage and serve you lunch. All you need to do is enjoy the ride.
We provide a mountain bike hiring service for people not able to bring their own bicycle.
History and Culture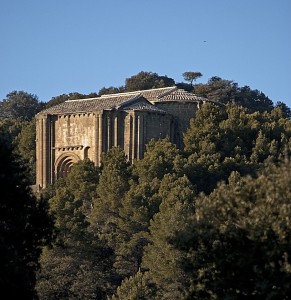 These tours are designed for travellers who are keen to gain an in-depth knowledge of the cultural and historical aspects of the region, giving you access to the architecture, cuisine, local festivals and traditions. At Fulltimeguides we place a lot of importance on the way you get to these places and to give you an all-inclusive experience we try to do so mostly on foot or even sometimes on horseback.
---
Accommodation in well-placed, unique buildings, chosen for their tranquillity and comfort.
You will have a guide and a back-up vehicle at your disposal for the duration of your holiday.
Routes are adapted according to the specific interests of the holiday-maker: Aragones Romanesque, mountain villages, local festivals (fiestas) and traditions, local products, wine-making...
Nature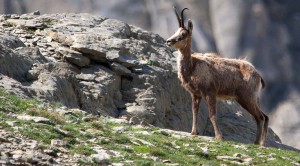 Huesca province, with its low-density population and hugely varied scenery, is one of those places where you can lose yourself for days, not seeing a soul. It's the ideal environment for contemplation, to get away from it all and immerse yourself in sightings of flora and fauna, and natural wonders... It has everything from the desert plains to the Pyrenees.
---
To enhance the experience we have chosen quiet accommodation which blends in with the environment and has great views. The most intrepid of you can spend a night under the stars in a bivouac in the hills. What's more you will be able to enjoy the twilight hour, the best time for observing fauna. We also provide expert guides, specialists in ornithology, mycology (fungi), flora and fauna, who will take you to the best spots for observation and give you every possible opportunity to see everything there is to see.
Winter trips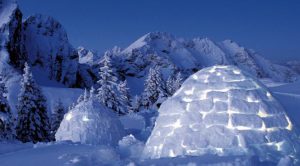 Some of the best opportunities that we are privileged to have on offer in the Pyrenees are, without a doubt, winter activities. We can offer you holidays in the mountains where the beauty which comes only with cold weather is often present. We will propose original activities to suit everyone: snow isn't only for skiing.
---
However, if your preference is skiing in the snowy season, we will accompany you each day to one of the twelve resorts in the Central Pyrenees, both in Spain and France. Each evening the group will decide where to go to the following day depending on weather forecasts and snow conditions at each resort. There is downhill and cross-country skiing available for all levels and courses for beginners can, of course, be arranged. If skiing is not your thing, don't worry.
You can still enjoy the magic of the snow-covered Pyrenees with a variety of activities from snowshoeing to exciting trips on sledges pulled by huskies or on snowmobiles.
Adventure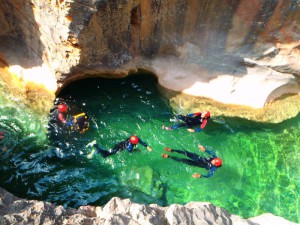 Adventure holidays packed with activities including a night or two in a bivouac in the hills, enjoying the surrounding countryside and observing the night sky.
If you're looking for an adrenaline-filled experience in full contact with nature, your options could include Via Ferrata (protected climbing), rafting, paragliding, mountain flying (flying in light over mountainous terrain), canyoning...Tell us your favourite activity and your level of experience, and we'll arrange a holiday you'll never forget.