Our services
All our trips and holidays include a basic package of Premium Services:
To travel is to live an all-inclusive and unique experience which can help us to learn about the history, heritage and customs of the people who inhabit the land we traverse. Full Time Guides offers comprehensive trips and holidays where we carefully plan each stage of your holiday to avoid the crowds and make you feel part of the landscape.
We take care of everything: we design your route, adapting it to your specific needs and expectations, we offer you a gourmet lunch by a river or at a mountain refuge or remote chapel, and we finish the day with a cultural visit to some of the prettiest villages in the area.
0
/ 10
Based on 1 reviews
Guest reviews are written by our customers after their stay at Our services.
Cleanliness

10

Comfort

10

Staff

10

Services

10

Value for money

10

Sleep quality

10
Guest reviews
rubieto
2016-09-19


Guía y vehículo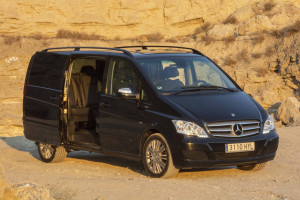 You will be accompanied by one of
our local guides who will introduce you to the culture and history of the region and will help you interpret the landscape and heritage.
Your guide will also see to anything that may come up unexpectedly and will give advice or help as and when requested: from finding a chemist to choosing a restaurant for a special dinner. You will have a back-up vehicle and driver at your disposal at all times to give you support in your chosen activity and to drive you wherever you need to go. Things like parking and driving on country roads won't be your problem, and you'll be able to relax and enjoy your dinner. Put your feet up. With Full Time Guides you won't need your car at all.
Allows you to go on longer treks and routes
Allows you to combine sections on foot with cycling. We will provide the support you need
Equipment and provisions won't be a problem
Catering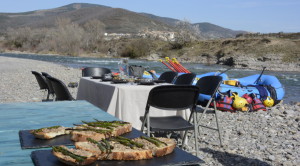 As well as recommending and booking the best restaurants and wineries in the area, we offer an exclusive gourmet catering service where we prepare and serve your lunch at just the right moment in incredible places such as viewpoints, remote Romanesque chapels or by a river...

Aperitivos
Aceitunas, queso y embutido del país
Bebidas frescas
Aperitivos bebibles
Gazpacho de sandia y tomate
Melón y hierbabuena
Melón con virutas de jamón
Mango, naranja y menta
Entrantes
Cucharitas de mejillones a la Andaluza
Cucharitas de Taboulé
Cucharitas de pulpo fresco con pimenton
Cucharitas de morcilla, piñones y queso
Cucharita de salmorejo Cordobés
Pincho de cherry, queso curado y oliva negra
Pincho de oliva verde, anchoa y huevo de codorniz
Ensaladas
Canónigos, uvas moradas, queso curado y frutos secos
Espinacas frescas, parmesano y fresas
Hojas verdes, brotes, queso fresco, maiz y anchoas
Carpaccio de tomate, salmón y aguacate
Principal
Brocheta de calabacín, setas y cherry
Brocheta de pollo, piña lacada y bacon
Brocheta de entrecot y verduras
Surtido de sushi
Solomillo al punto
Postres
Brocheta de frutas con chocolate
Ensalada de frutas con vainilla
Billetes y transfer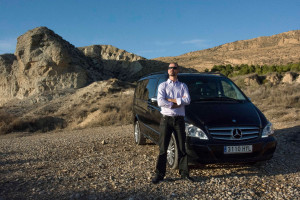 Forget about traffic jams, chaos and parking problems and start enjoying yourself as soon as you set foot in the area.
Take advantage of our exclusive transfer service from the station or airport at Zaragoza, Pau or Bilbao
and make the most of your weekend and enjoy every minute of your trip.
If you like we can organise your tickets Take a look at our door to door service: you'
l like what you see.
Grupos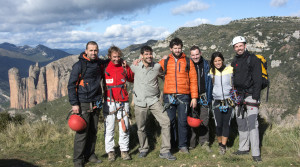 Working with small groups of between 8 and 16 people allows us to maintain quality service as well as minimize the impact of tourism on the area. If your group is larger than this we propose special programmes coordinating with two guides.
We will take you to places that other people don't get the chance to see.
We provide the possibility of suggesting alternatives to make everybody happy: for example, whilst some of the group take the route further, others could visit a market.
Familias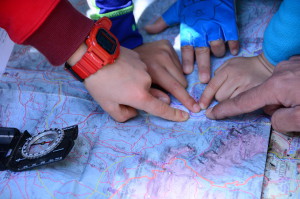 We know first-hand what the limitations and needs are when travelling as a family and we have carefully thought-out proposals for you
Carefully selected family-friendly accommodation
Specially designed routes for families to enjoy without over-exertion.
We adapt the daily planning and catering to fit in with your habits, routines and timetables. And, of
course, we provide a special children's menu.
We set a minimum age for each activity and we adapt activities for every individual case.
We offer activities for your young children while you enjoy some time together as a couple at the
hotel spa, at a restaurant or some other activity.
We also recognise the importance of family time together
Join a trip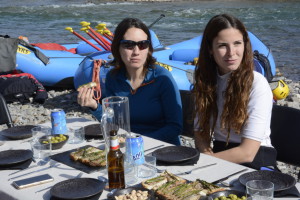 If you are a solo traveller, or part of a small group, and would like to share your experience with others you can join an open group of travellers in "Join a Trip" by consulting our upcoming trips or, if you don't see anything that grabs you, you can propose a new trip. We will coordinate your stay and help you find like-minded travellers.