Jaca and the western valleys of the Pyrenees
Aragon Valley
Aragón Valley, so named as it was the birthplace of the ancient kingdom of Aragon, is a must-see for its art, architecture and natural history.
The walk from the Somport mountain pass to the Berdún canal is one of the most beautiful sections of the Camino de Santiago (St. James's Way). It is called the French Path (Camino Francés) and its 164 kilometres follow the river between the Pyrenean Mountains, through meadows and leafy woods, dotted here and there with splendid examples of Romanesque architecture.
Medieval town of Jaca
Jaca was the first capital city of the Kingdom of Aragon and its ancient streets boast some fine Romanesque buildings, among them the cathedral which houses an excellent museum of Romanesque art. Other buildings of notable civil and military architecture include the fortress, the town hall and the clock tower.
Hecho and Anso Valleys
These two tranquil, unspoilt valleys begin in the mountains and stretch to the Berdún Canal, encompassing the impressive Selva de Oza beech forest and the great rock formations of the Veral.
The villages of Hecho and Ansó have retained much of their traditional culture, including customs, cuisine and local dialect. Ansó is an architectural delight of typical ancient stone houses with distinctive façades and chimneys, and cobbled streets.
Deporte y naturaleza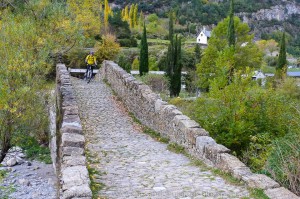 You can participate in a variety of outdoor sports and activities in this dynamic region of the Pyrenees through which pass some of the the Grandes Rutas (Spanish network of long-distance paths, tracks and trails) such as the Camino de Santiago (St James's Way), and the trans-Pyrenean and Pre-Pyrenean trails GR11 and GR15. In spring, with the melting of the snow, rafting down the tributaries of the River Aragon is highly recommended.
—
Cultura y patrimonio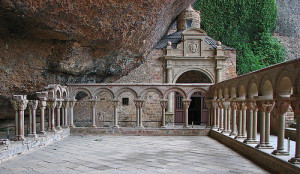 The Jacetania region played an important part in the formation of the Kingdom of Aragon and there are several Romanesque monuments still to be seen. Some villages have retained much of their traditional culture, including customs, cuisine and local dialect.
Romanesque Cathedral of Jaca
Route of the Holy Grail
Monastery of San Juan de la Peña
Village of Ansó
—
Gastronomia y ocio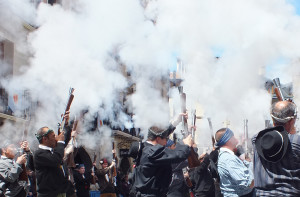 Jaca is the best place to go in the Pyrenees for urban entertainment, both in summer and winter, with its lively fiestas, festivals and buzzing restaurants, and has a strong tradition of tapas in the street.
Tapas tours in Jaca
Local festivity of the first Friday of May
Pirineos Classic & Jazzetania Fest in July
País
Spain
---
Clima
Continental Mountain with oceanic influence in the western valleys. Cold winters with snowfall and pleasant summers.
---
Temporada recomendada
All year. Although October and February are concentrated most of the Atlantic fronts alternating rainy and sunny days with days.
Qué nos diferencia
Ofrecemos viajes guiados para grupos reducidos siempre con un alto nivel de atención y servicio. Nuestro objetivo es sorprender al viajero con
propuestas originales, combinando ocio, cultura y naturaleza
en la proporción que demande.
Guía y vehículo privado
Actividades y visitas seleccionadas
Servicios exclusivos
Aprovecha cada minuto del viaje
Contar con un guía local experimentado durante el viaje puede marcar la diferencia:
Personaliza tu viaje
Resuelve contratiempos
Interpreta territorio y paisaje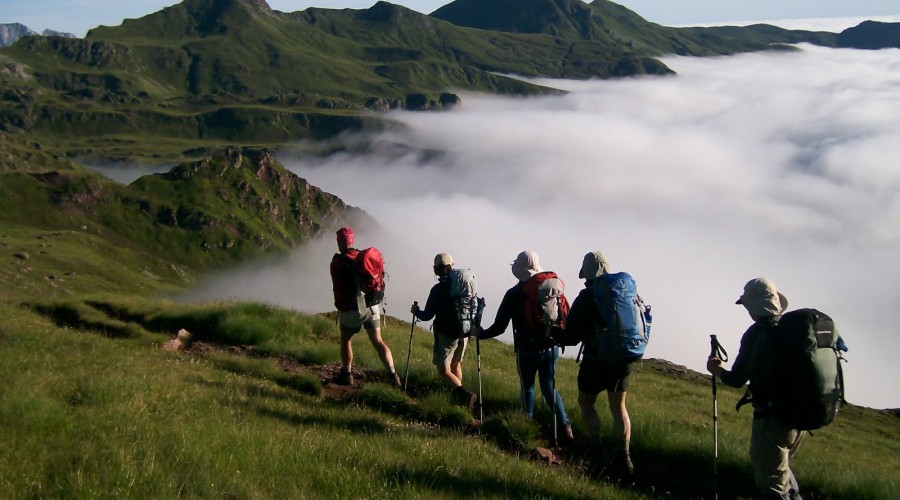 Pyrenees
Crossings on foot and on horseback · Nordic walking · Trekking
Nivel:

Temporada: