Self-guided trekking routes "Destination Murillo"
"Destination Murillo" is a programme of linear self-guided walks designed for you to get to know the Reino de los Mallos region on foot. Our aim is to make it easy for you! We will take you to the start of each walk so you don't need to stick to circular walks or worry about your vehicle. We have selected seven routes, each between 15 and 20 km, which traverse the most emblematic parts of the Reino de los Mallos and often take you along the ancient paths connecting villages. And you can follow the route on your GPS!
You'll walk along the Banks of the River Gállego, tread medieval and Roman roads, trudge the paths of the navvies who built the railway for the "Canfranero" (train to Canfranc), go through spectacular landscapes such as the Escalete and Salinas Gorges, the Mallos (gigantic rock formations) of Agüero, Riglos and Murillo, Punta Común mountain and the abandoned village of "Salinos Viejo".
You choose your pace: rambling, Nordic walking or trail running. You're sure to come back for more as walking is such a joy!
Daily outings from Murillo (carpark next to the hostel) 8a.m.
Monday: Panoramic views in the Reino de los Mallos Region
Agüero-Punta Común-Tolasana-Murillo
From Agüero and its Mallos to the top of Punta Común mountain (an easy ascent) and past Peña Rueba mountain. Spectacular views of the Pyrenees, the Mallos de Riglos and the River Gállego.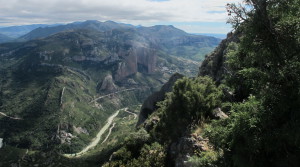 Distance : 13,07 km
Approx. Time : 6-7 h
Ascent. : 572 m
Descent :612 m
Tuesday: Among Colossal Rocks
La Peña-Escalete Gorge-Collado (col) del "Fire"
Your route traverses the impressive Escalete Gorge and then follows the footpath around the Mallos de Riglos before dropping down to the village. The path continues to Murillo along one of the Hoya de Huesca nature trails, crossing the footbridge over the River Gállego.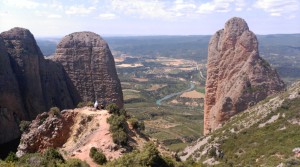 Distance : 13,24 km
Approx. Time. : 6-7 h
Ascent : 714 m
Descent. : 618 m
Wednesday: Abandoned Villages of "La Ralla"
Villalangua-Salinas Gorge-Agüero-Murillo
Magical locations, birds of prey and abandoned villages with a story to tell. Among the highlights is the "Osqueta" path with panoramic views of the Pyrenees and the "Pituelo" gorge between the Mallos de Agüero.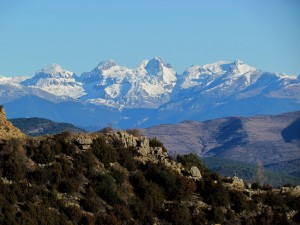 Distance : 15,91 km
Approx. Time : 7 h
Ascent : 608 m
Descent : 696 m
Thursday: Water Walk
Biscarrues-Eres-Santa Eulalia-Moran-Murilo
You'll go along the River Gállego to Murillo and see the various different uses of water along the way, crossing the river from time to time, seeing the most beautiful scenery. You can stop now and then on the banks or in the water to cool down.
Distance : 14,56 km
Approx. Time : 5 h
Ascent : 147 m
Descent : 84 m
Friday: Along the Gállego Canyon
La Peña-Carcavilla-Riglos-Murillo
This route takes you along the paths that the navvies used as they built the railway for the Canfranero (train to Canfranc). After going down the Gállego Canyon you get to Riglos.The path then goes on to Murillo along the Hoya de Huesca nature trail, crossing the footbridge over the River Gállego.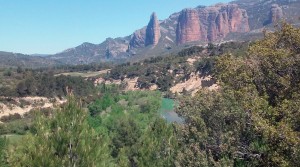 Distance : 12,60 km
Approx. Time : 5 h
Ascent : 271 m
Descent : 319 m
Saturday: The Hidden Path
Salinas-"Las Ventanas"-Soma Hill-Agüero-Murillo
This beautiful path takes a unique route across the Santo Domingo mountains. Surrounded by lush vegetation you go up the north face, past "Las Ventanas" (Windows) and over the Soma Col. You then go down the south side through the "Pituelo" gorge, between the Agüero rock formations and join the Hoya nature trail to Murillo.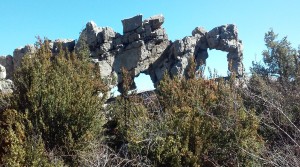 Distance : 17,19 km
Approx. Time : 7-8 h
Ascent :572 m
Descent :667 m
Sunday: Ancient paths of the Realm
Santa Eulalia-Moran-Agüero-Murillo
You'll walk the ancient paths linking the villages of the Galliguera region. Here it's possible to see badgers and roe deer. Along the way you'll see the remains of a Roman road as well as other pleasant surprises such as the Romanesque Santiago (St James) Church.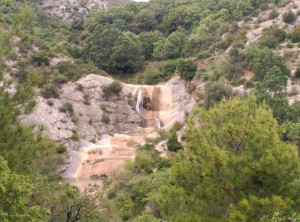 Distance : 15,01 Km
Approx. Time : 7 h
Ascent : 431 m
Descent :397 m
What's included:
Accommodation arranged for you
Transport to the starting point of each walk
The Full Time Guides "energy kit" (snacks and energy bars)
GPS file and instructions for each route
Telephone assistance during each excursion
What's not included:
Picnic (optional)
Renting of GPS (optional)
A guide to accompany you (optional)
Anything else not listed above under "What's included"
Accommodations available

:
These self-guided routes are available from April to October
No se han encontrado alojamientos disponibles.
Difficulty

:
Easy. Includes transport to the starting point, GPS tracking files and a route booklet designed to give you information about the natural and cultural heritage of the Reino de los Mallos area.
We will be looking out for you on arrival at your accomodation.
Minimum age: 8 years.
—
Practical tips

:
Comfortable walking footwear and clothing, including a cap or hat, sun protection, something warm and a waterproof.
Recommended: binoculars, swimwear and a towel if you wish to bathe in the natural pools.
Mobile phone with enough battery to stay in contact for the duration of the walk.
—
Useful information

:
EU citizens should bring a European Health Insurance Card (EHIC) from their home country, or take out prívate medical insurance.
Non-EU citizens will need a passport and visas.
All excursions are guaranteed with a mínimum of four people.
Activities

:
—
Personal attention

:
A guide from Full Time Guides will take you to each starting point and will be contactable by phone throughout the excursion to provide any support needed.
—
Accommodation options

:
Self-guided trekking routes "Destination Murillo"
---
Pre-Pyrenees
---
Castles and fortresses | Crossings on foot and on horseback | Romanic | Thematic tours | Traveling with children | Trekking | Wine routes
---
Duration

:
---
Level:

---
Season: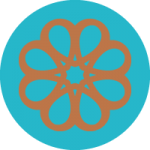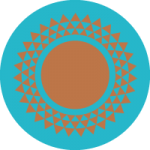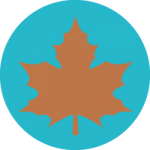 ---
What's different about us
We provide guided trips and holidays for small groups, offering a high level of attention and service. Our aim is to surprise you, the traveller, with original ideas combining leisure activities with culture and nature in proportions to suit you.
Personal guide and vehicle
Carefully selected tours and activities
Exclusive service
You may also be interested...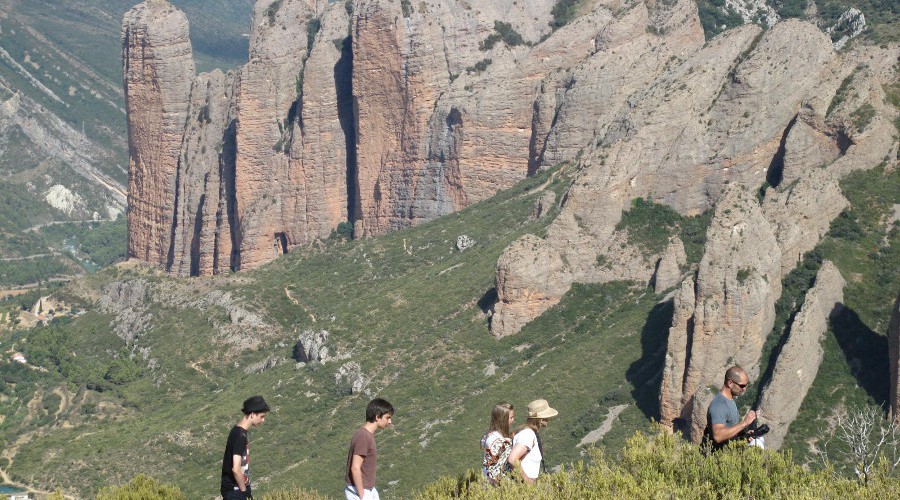 Pre-Pyrenees
Crossings on foot and on horseback · Trail running · Trekking
Nivel:

Temporada: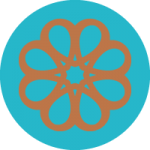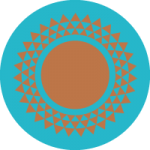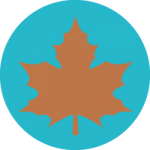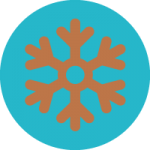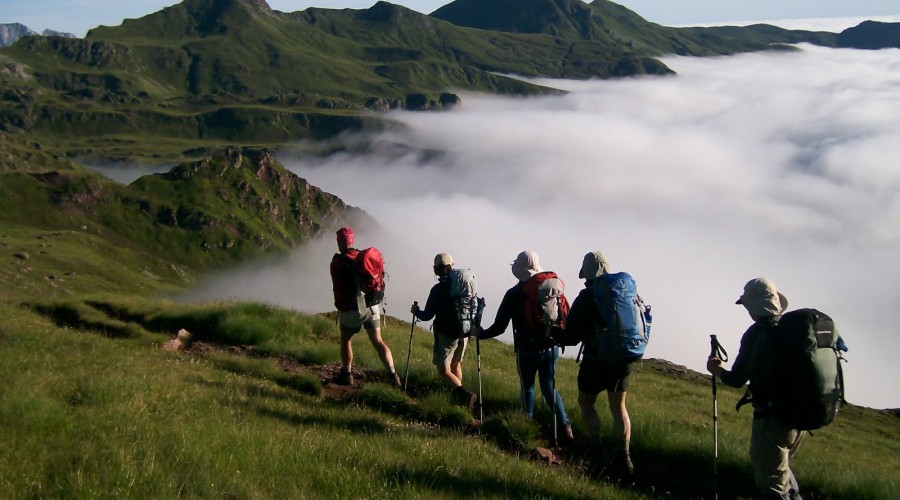 Pyrenees
Crossings on foot and on horseback · Nordic walking · Trekking
Nivel:

Temporada: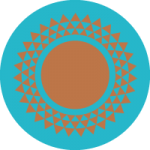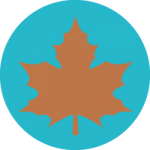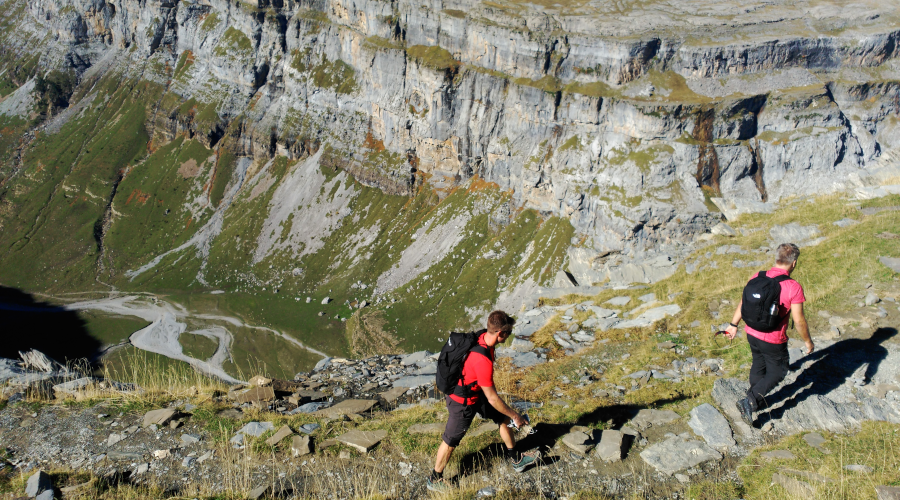 Pyrenees
Crossings on foot and on horseback · Trail running · Trekking
Nivel:

Temporada: